THE WESTERN MARYLAND RAILWAY VOLUME II WITH BALTIMORE & OHIO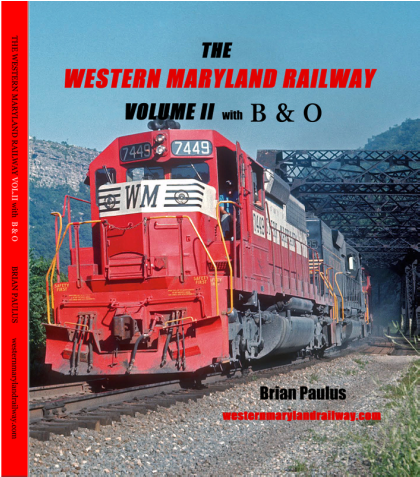 This is a follow up to "The Western Maryland Railway...Cumberland to Hagerstown & The New Line" as the famous Western Maryland Railway returns in Volume II. Trains are seen from Hagerstown, Maryland to Connellsville, Pennsylvania and from Cumberland, Maryland to Spruce & Webster Springs, West Virginia via Elkins.
The Western Maryland is covered with all new photos from the 1940s, 1950s, 1960s & 1970s!! See action in the Potomac River Valley and across the rugged Allegheny Mountains, including Maryland Junction, State Line Junction and Eckhart Junction and a lot more!
​We'll also cover action on the Baltimore & Ohio from Harpers Ferry-Maryland Heights to Grafton during the same time period connecting the East End of the Cumberland Division with the West End via Cumberland (and the Patterson Creek Cutoff); this includes the Queen City Station and the B & O's famous Cincinnatian
.
​
It's the railroad photography of Tom Biery, Wayne Brumbaugh, Bob Kaplan, James Marcus, Bob Markle, B&O Dispatcher: James McFarlane, Rick Morrison, Tom Nemeth, Bill O'Hara, Jim Paulus, WM Operator: Samuel L.Wagner, Howard J.Wayt and more.
Printed on Blurb.com's quality 100# Premium Paper with Lustre Finish for crisp, clear results. It's 124 total pages available in Softcover.


​Use this link to purchase this book:
www.blurb.com/b/7428645-the-western-maryland-railway-volum-ii-with-b-o-br
​
Just released:
CSX: Sand Patch Assault ... Volume I ... 1987 - 1997
with
B & O ... Cumberland to Meyersdale
See page 10 for all information and an ordering link for this brand new, 100-page book from Blurb.com
Also: The new
Western Maryland Railway ...
Baltimore to Cumberland & The New Line ... Volume III
is nearing completion. The book is currently being finalized by the publisher and its cover is now available on the last page of this website.
​
​
​
---