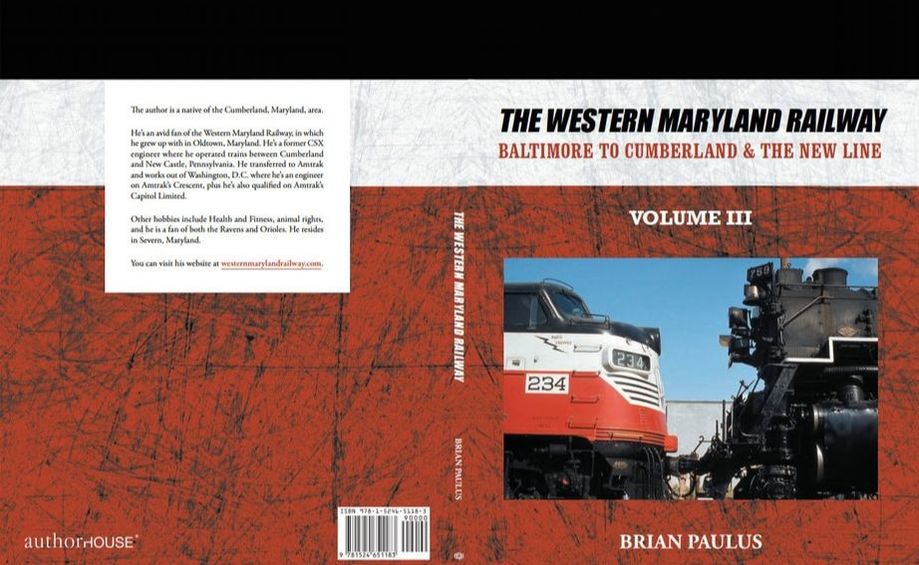 The Western Maryland Railway ... Baltimore to Cumberland & The New Line ... Volume III
This new 152-page softcover edition has now been finalized and is ready for purchase.

We begin at Baltimore's Port Covington (WM's Gateway to the World) and begin our trek westward to Hagerstown (via the Hanover, East and Lurgan Subdivisions). After visiting the heart of the WM at Hagerstown it's off to Williamsport, Big Spring and Big Pool.
We then arrive at Parkhead-Moffett and take a detailed look at the train derailment of April 3,1970 with Advance AJ-1, from there we'll enter into Hancock then traverse the Potomac River Valley to Oldtown via Round Top, Indigo Tunnel, Jerome and Town Creek.
From Oldtown it's off to North Branch, South Cumberland, Knobley Tunnel and Maryland Junction Terminal.
From there we'll cross the Potomac into downtown Cumberland and head west on the "New Line" through the Narrows, around Helmstetter's Curve, to Frostburg, Colmar-Big Savage Tunnel, Deal, Keystone Viaduct, Meyersdale, Salisbury Viaduct, Rockwood, Ohio Pyle and Connellsville, Pa.
It's scenes from the early 20th Century and into the 1940s, the 50s, the 60s, the 70s and the 1980s, that includes CP 1286, NKP 759, WM 202, WM 4367 and more.

To order please log into the AuthorHouse website and then Bookstore and type in the author's name, or call 1-800-639-8640.
Once you reach the Bookstore and type in the author's name you'll see both ​WM books, which are available for purchase.


---